I'm SO EXCITED that a wonderful group of teacher bloggers got together for a little Blog Hoppin'!! It's Teacher Week!
Here's a little about me for "Meet the Teacher Monday"!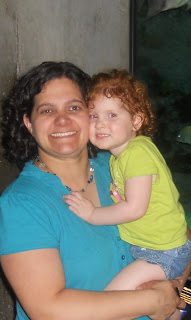 Tell us a little something about you…
I am most proud of two things in my life… my husband Jeff and our daughter Amelia! Jeff and I celebrated our 7th anniversary this summer. Amelia turned 2 in April and is a bundle of fun and energy. Trust me–going back to school is going to be a bit tough… Mommy and Amelia have been enjoying a TON of summertime fun!!! I mean, how can you resist blue eyes and red curls!?
I grew up in northeastern Pennsylvania (in the Pocono Mountains). We now live in northern Virginia, about 45 minutes south of DC.
How long have you been teaching?
This is my 10th year of teaching. I started out in
half-day kindergarten for a year and then taught
first grade for 2 years. When I moved to my current school, I taught second grade for 2 years. The next year, our district started full-day kindergarten… I LEAPED at the chance and never looked back!! This will be my 5th year in full-day K!
I'm happy to have the perspective from teaching K-2… but my heart is definitely in kindergarten. :o)
You might not know…
that even as a young girl, I knew I would live in Virginia when I grew up! My Mom grew up in North Carolina, and we lived in Pennsylvania. Every Easter we would drive (10 hours!) to visit my grandparents, aunts, uncles, and cousins in NC. Whenever we passed through VA, I would tell my parents–some day, I'm going to live here!
What are you looking most forward to this school year?
Math Work Stations!! I got the book after everyone's raves and posts earlier this summer. I thoroughly enjoyed learning about it through blog hopping and now reading Debbie's work. I LOVE her stuff!! This is something I have been *trying* so I'm excited to test out some new ideas… because I know it can be better! Can't wait!!
What do you need to improve?
I think the area I'm most focusing on improving is organization–not the organization that everyone sees (because I am *obsessed* with labels, color coding, and other organization!!). I'm talking about the behind the scenes stuff… I completing redid my classroom files into binders this summer, organized my teaching iPod into

play-lists

, and I want to improve other *hidden* areas. This is the stuff that REALLY makes your teaching life easier!! :o)
What teaching supplies can you *not* live without?
BOOKS! Today was the first day I was back all day working in my room–and what is the first thing I worked on… washing book shelves and book tubs, and getting out my books! I LOVE having a classroom where other teachers come to look for books!!
Promethean Board! I can not believe I ever taught without one… it is such an integral part of our day.
Music! We love Heidi Songs, Jack Hartmann, Dr. Jean, Shari Sloane, and more!! I am a firm believer that if you put it to music, they will learn it!
LINK UP!! We'd love to learn about YOU!