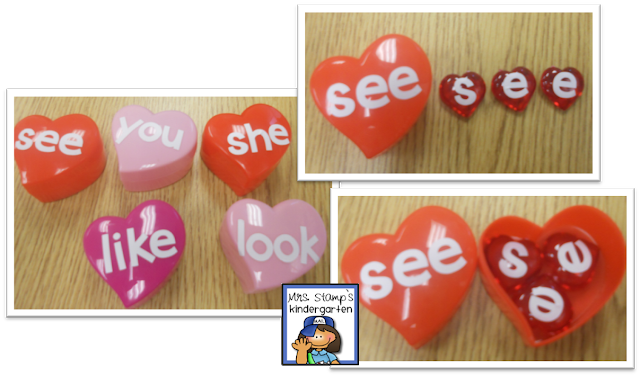 1.  I made another game with my new Cameo!!   The kids had a blast playing this one… made with heart boxes and gems from the Dollar Tree.  Thanks for the idea, Kelly!
2.  Our cafeteria manager told me we are having a "milk mustache" picture contest at school.  I immediately thought of an idea I had pinned last February from Abby!  Only thing we did differently was each kiddo colored their mustache to match their favorite flavor–chocolate, strawberry, or regular!  This made the perfect Valentine for our families.
3.  On Valentine's Day, we also sorted conversation hearts by color and graphed the number of hearts for each color (thanks, Jennifer!).  We also graphed the number of letters–great challenge for my kiddos! (please tell me if this is yours!)
4.  It's always fun sharing our Valentine containers… and, of course, delivering valentines!
5.  We rounded out a fun week with our 100 days celebration.  Here's my assistant and I after a jam-packed day (yes, that's 100 buttons I glued onto my shirt!).  PS  Hop over to Blog Hoppin' to see how we spent our day!