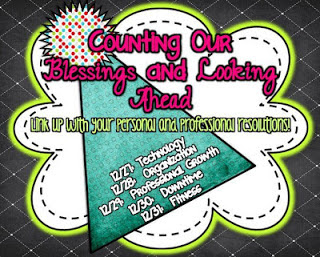 I should start by saying that I L-O-V-E organization!!! There are lots of things that I think I'm doing really well… plus areas that I want to keep working on (isn't it always "time" that seems to get in the way!?). Let's start with what's already organized (click on the pictures for more info–or where to find it)!!
Classroom Library
I love to spread my library throughout the room–so it's easy to find everything and it helps space the kiddos out too. :o) There are slanted shelves by my meeting place carpet also, plus tons of labeled book bins!!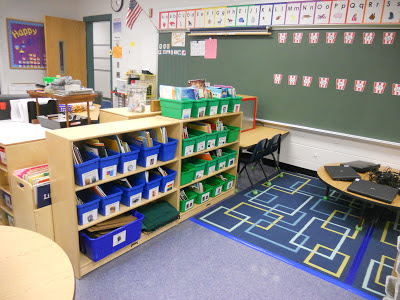 Blue Math book tubs and green Science book tubs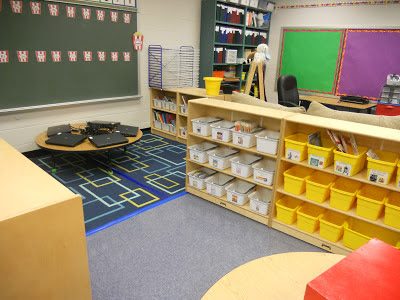 White Readers book tubs and yellow Author book tubs (they were being re-labeled when this picture was taken)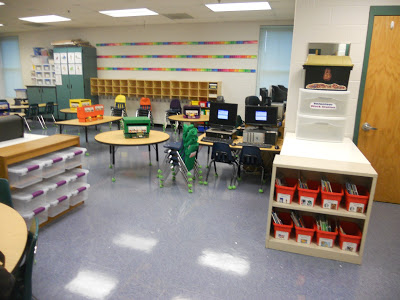 Red Social Studies book tubs… on the end of another shelf
My closet
My classroom closet was made "famous" when
Kim Adsit
visited in October! Ha ha!! Well, not really… but I did have to laugh when she mentioned it in her blog post (teachers do love storage space)! We are really lucky to have HUGE closets in the kindergarten hallway–which is wonderful when so many other classrooms lack necessary storage. I have been working at better organizing the space (but still have farther to go, see number 2 below!)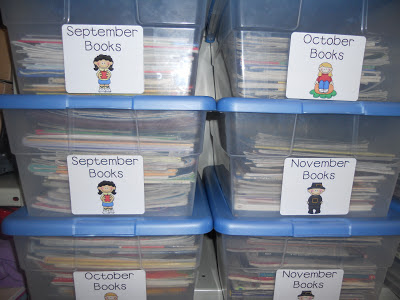 These tubs hold my themed books for each month (I told you I LOVE books!)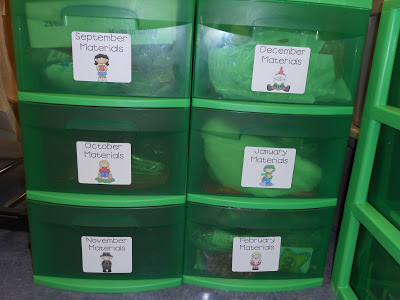 These drawers fit perfectly under the built in shelving and store other materials for each month. I want to invest in more of these, so I can have 2 drawers for each month.
Math Manipulatives and Math Work Stations
You can see a corner of the math organization shelves to the left of this photo. Everything's labeled with pictures and words, so students can return items independently. The clear containers with purple handles are now my Math work station tubs–labeled with numbers. This is my first year doing it in the true Debbie Diller sense… and I'm lovin' it! I'll have to take some better photos when we get back.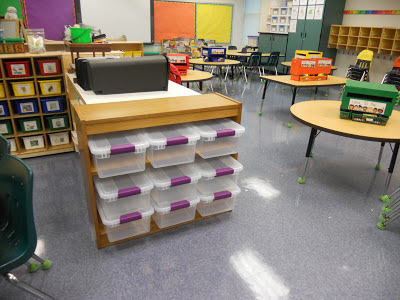 EAGLE Notebooks
I want my kiddos to stay organized too–and I love using EAGLE notebooks in the classroom. Here are the storage bins I use… click on the picture to jump to my Blog Hoppin' post about my notebook set-up.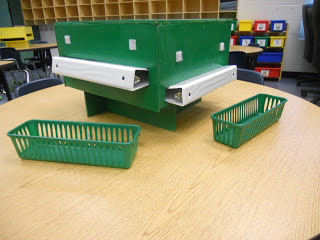 Data Notebooks and Data Wall
We keep track of individual data in Data Notebooks (folders with brads) and class data on our Data Wall (on the wall above our cubbies).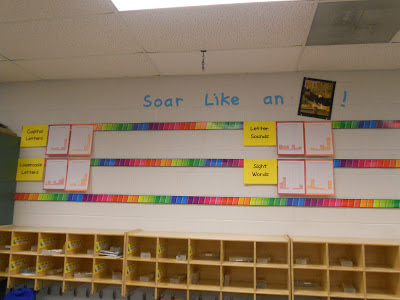 Other Student Organization
I tried color coding my shelves with colored masking tape this year–for the book box shelf, and it has been a fabulous way to cut down on the time it takes to locate their book boxes! (Of course, this was taken on the 1st day… when we only had one book inside LOL!)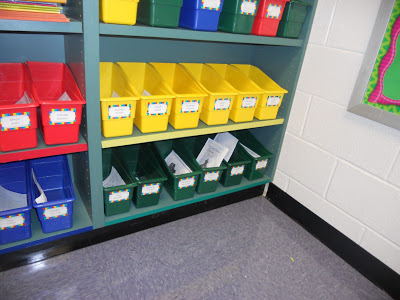 Here are the student supply drawers on the counter by the sink (for extras like sharpened pencils, new glue sticks, highlighters, etc). With everything labeled–students can find what they need without any wasted time!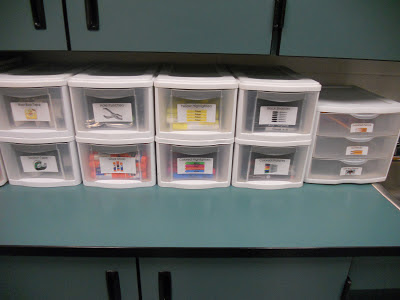 OK… now onto my organization resolutions!!
Number 1: Work Station Storage
I need to update and organize my system for *storing* all the fabulous activities for work stations! I think I will organize by work station, not seasonal (like I have other things) since I build my stations so there are choices at each one, and then rotate old activities out. I'd love any ideas on how YOU store your stations (literacy and/or math)!!
Number 2: My Classroom Closet
I mentioned above how I LOVE my classroom closet… and all the wonderful organization that exists inside. Unfortunately, it also becomes a place to "stash" stuff when it needs to be out of sight! YIKES! So, resolution number 2 is to keep it as neat and organized as it can be!
Number 3: My "Teacher Room"
I have this lovely little room in my basement for housing my "teacher stuff" as my husband lovingly refers to it. Unfortunately, the room is far from lovely and usually becomes a dumping ground for other things… I am going to change that!!